About Paul Daly Me
With more than 15 years of experience, I am Co-founder and Creative Lead at both Made by Crunch & uSkinned. 
I have worked in a variety of design roles at some of the UK's best advertising agencies, digital agencies and design studios. Within these roles, I have been lucky enough to produce work for a wide range of clients, including the Ministry of Sound, UEFA, Scottish FA, University of Glasgow, BBC, NHS, Caorunn Gin, Hankey Bannister Whisky - to name a few.
I live and work in Glasgow, Scotland's largest city.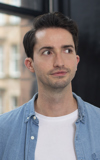 Present
Founder & Creative Lead at uSkinned
November 2014 – present
At uSkinned, my role is to lead the design efforts across all teams, including branding, marketing, strategy, and product design teams, as well as executive leadership.
Founder & Creative Lead at Made by Crunch
August 2011 – present
Past
Interface Designer at D8
June 2010 – July 2011
Frontend Designer at Tictoc Digital
Sept 2009 – June 2010
Designer at GRP
June 2007 – Sept 2009
Freelance Designer & Developer
2003 – July 2011